GOL S.A 
Soraluze
Guipuzkoa – España
GOL has been founded as a Family Company in 1971.
The company has been bought by Alfa Group in 2006. Since 3 years, we belong to the Korean group Global Seoul Metal with headquarter in Seoul.
Through a 35 years research and development of technology, Seoul Metal has become a manufacturing company specialized in two different areas: cold forged parts and vision sorting equipment reaching in 2016 turn-over of 150 M € with 1000 employees. We are a company that grows quickly giving global solutions to our global customers: 3 plants in Europe (2 Spain and 1 Romania), 12 plants in Asia (Korea, China, Philippines, Vietnam and Indonesia) and a warehouse in Mexico (soon a manufacturing plant); 150 Millions of euros, 1.000 employees
We are specialised in the AUTOMOTIVE ( 44%) & ELECTRONICS industry (56%), but we are open for other industrial sectors.
We are expert in co-engineering with our customers optimizing the design of the parts to be produced. Once defined, our team is responsible for each stage of the production process: Tools design – Forging – Threading – Cleaning – Machining – Heat and superficials treatments – Patches – Controls (Unitary inspection by eddy-current and Controls Camera machine.
Internationally recognized companies in the automotive sector have placed their trust in us.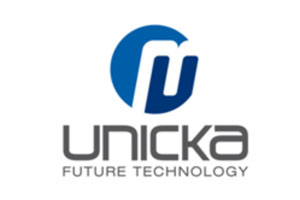 UNICKA S.r.l. 
S. Giorgio delle Pertiche  
Padova – Italy
A family owned  Company established in 1970, Unicka is based in San Giorgio delle Pertiche – Padova;   in the industrial area of northern Italy.  From there Unicka is carrying out  engineering/co-design, cold forming, welding/assembling, machining , surface treatments (outsourcing), tools manufacturing .
The company is specialized in:
– manufacturing of metal components with a complex shape, even very thick, by cold forming, laser cutting and bending, conventional and robot-assisted welding, machining and assembling
– designing and manufacturing of progressive tools, block transfer tools, welding jigs, check jigs, assembly systems
Unicka can form  and machine a wide range of metals ( stainless steel, carbon steel, wear steel, high-performance structural steel,  aluminum, copper, brass and many others) with a thickness up to 15 mm from coil and up to 25 mm using sheets  or strap iron.
Unicka is certified :  UNI EN ISO 9001:2015 ;  IATF 16949 : 2016 ;  ISO 14001 – 2015 ;  BS OHSAS18001 : 2007
Employees 2018: 158  Turnover 2017: € 31.6 M..   // Turnover 2018  € 34.6 M // Forecast 2019 € 36.8  
Market  fields:   58% automotive –  18% Textile, water treatment etc.. 13% Household appliances –  11% Agricultural parts
Countries: CEE Countries 65% –  Italy 30%  – 5% Extra CEE
Press yard: nr. 27 mechanical (from 100 tons to 5000 tons) presses –  nr. 1 hydraulic (500 tons) press
Quality System:   In our Lab there are 7 people: 3 in quality assurance, 4 in quality checking;  our laboratory  is equipped with: 3 3D measure machine; 1 Tensile strength machine; 1 profile projector; etc.
Machines yard: 2 milling machines, 5 CNC  work centers, 3 lathes, 2 wire cutting machines
Machining & Surface treatment: In order to deliver finished products complete with heath of surface treatments to its customers; Unicka also sub-contracts to certified and qualified suppliers; wo are able to meet the standards set by our company as well as the requests from our clients.
The various processing includes: Painting, galvanizing, KTL and Washing
Welding & assembly: 5 Automatic welding centers, one of them with 2 robots able to weld at the same time and up to 5 meters in length, as well as 2 projection welding stations. To ensure the quality of the weld pieces, important control systems have also been implemented. Specifically, we can perform dimensional controls and tensile tests directly in our quality department
Product assembly: 5 Welding robots; 2 spot welding stations; 3 automatic assembly lines; 1threading robot
Some products: Antivitrations; Acoustic silencer,  Brackets; Door base strikers; Door devices;  Dumpers pre-form.;  Fly wheels; Guides; Housings; Panels; Pedals; Propellers;  Oil pans; Spacers;  Shock absorber; Steering wheel; Supports; Traverses;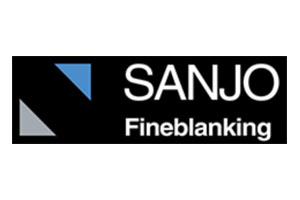 SANJO S.A. 
S. Andreu de la Barca  
Barcelona – Spain 
Founded in 1967  
Family owned and run business aiming at long term success and rentability Integral Process: Fineblanking  – Heats Treatments – Tooling – Development of Materials – Machining
Sanjo S.A. 
IDENTIFYNG CUSTOMER NEEDS AND PROJECT DEVELOPMENT
We work proactively in the conception of the project alongside our clients, providing them with wide experience in the development and application of our technology.
PROJECT MANAGEMENT
During the development stage, a multidisciplinary team coordinates each project to successfully achieve the technical requirements demanded by our customers in terms of Quality, Cost and Deadline. Its goal is customer satisfaction through meeting those terms.
DESIGN AND MANUFACTURE OF FINEBLANKING TOOLING
Over 40 years of experience in the manufacture and maintenance of tooling using the most advanced technologies together with innovative design systems make us a leading company in the field.
MATERIALS DEVELOPMENT
We are capable of developing materials, with the support or our suppliers, tailored to our customer´s application.
We use a wide range of grades up to the thicknesses of 14 mm.
FINEBLANKING AND ASSEMBLY
The fineblanking machinery park is made up of presses from 1000 kN to7000 kN, some of which are equipped with additional forces. Having duplicates of them all is an assurance to our customers. Our modern and fully automated assembly division has the extensive experience that enables us to provide wide-ranging solutions.
Markets & Applications: Automotive – Eolic – Home Appliances – Gardening – etc.