GOL S.A 
Soraluze
Guipuzkoa – España
GOL has been founded as a Family Company in 1971.
The company has been bought by Alfa Group in 2006. Since 3 years, we belong to the Korean group Global Seoul Metal with headquarter in Seoul.
Through a 35 years research and development of technology, Seoul Metal has become a manufacturing company specialized in two different areas: cold forged parts and vision sorting equipment reaching in 2016 turn-over of 150 M € with 1000 employees. We are a company that grows quickly giving global solutions to our global customers: 3 plants in Europe (2 Spain and 1 Romania), 12 plants in Asia (Korea, China, Philippines, Vietnam and Indonesia) and a warehouse in Mexico (soon a manufacturing plant); 150 Millions of euros, 1.000 employees
We are specialised in the AUTOMOTIVE ( 44%) & ELECTRONICS industry (56%), but we are open for other industrial sectors.
We are expert in co-engineering with our customers optimizing the design of the parts to be produced. Once defined, our team is responsible for each stage of the production process: Tools design – Forging – Threading – Cleaning – Machining – Heat and superficials treatments – Patches – Controls (Unitary inspection by eddy-current and Controls Camera machine.
Internationally recognized companies in the automotive sector have placed their trust in us.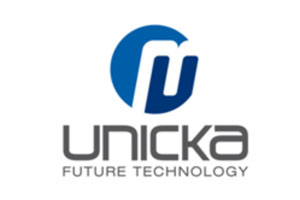 UNICKA S.r.l. 
S. Giorgio delle Pertiche  
Padova – Italy
A family owned company established in 1970, Unicka S.r.l. is based in San Giorgio delle Pertiche, in the industrial area of northern Italy.
From there Unicka S.r.l. is carrying out engineering/co-design, cold forming, welding/assembling, machining , surface treatments (outsourcing), tools manufacturing .
The company is specialized in:
manufacturing of metal components with a complex shape, even very thick, by cold forming, laser cutting and bending, conventional and robot-assisted welding, machining and assembling, designing and manufacturing of progressive tools, block transfer tools, welding jigs, check jigs, assembly systems
Unicka S.r.l. can form and machine a wide range of metals ( stainless steel, carbon steel, wear steel, high-performance structural steel, aluminum, copper, brass and many others) with a thickness up to 15 mm from coil and up to 25 mm using sheets or strap iron.
Unicka S.r.l. is certified UNI EN ISO 9001:2006 ; UNI ISO/TS 16949 ; ISO 14001 – BS OHSAS18001
Number of staff: 162
Market sectors: 58% automotive – 15% household appliances – 15% agricultural – 9% textile machinery – 3% others
Press yard: nr. 24 mechanical (from 100 t to 5000 t) presses – nr. 1 hydraulic (500 t) press
Machines yard: 2 milling machines, 5 CNC work centers, 3 lathes, 2 wire cutting machines
Some products: door base strikers, steering wheel, door devices, fly wheels, traverses, oil pans, pedals, supports, spacers, panels, propellers, guides, brackets, housings.
Some products: Antivitrations; Acoustic silencer,  Brackets; Door base strikers; Door devices;  Dumpers pre-form.;  Fly wheels; Guides; Housings; Panels; Pedals; Propellers;  Oil pans; Spacers;  Shock absorber; Steering wheel; Supports; Traverses;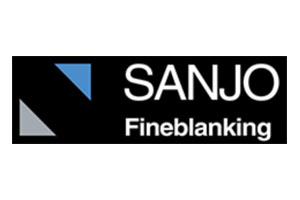 SANJO GROUP S.A. 
S. Andreu de la Barca  
Barcelona – Spain 
Founded in the 1967 by Santiago Cruz Aguilera, Sanjo Group has gone from being a small workshop to a consoliated company based in Barcelona immersed in the porcess of espansion.
Family owned and run business aiming at long term success and rentability; Sanjo is a multinational company specialised in precision technologies and, especially, in the stamping of fine cut parts. We are backed by 50 years of history and international recognition both for our experience and passion when it comes to working and for the relibility, quality and innovate capacity of our processes.
We ave facilities equipped with the most advanced technology in which our original values are preserved: care in product design; careful selection of materials; precision in the production processes, adaptation to the needs of the client, whit whom we maintain a permanet B2B relationship, and empaty with th work of a team, wich is one of our main competitive advantages. These values, together with the commitment of offer a comprehensive service to the client, has allowed us to increase the offer of our product portfolio and maintain sustained growth in the worl wide market. The consolidation of our business has generated an expansion process that means that today SANJO GROUP operates in more than 30 coutries, exporting 80% of is production. At SANJO GROUP, we continue to drive innovation. For this reason, we worl to be a benchmark in Industry 4.0, increasing our compeririveness through management control.5 production plants around the world – 4 International commercial offices – Fine cutting presses 1,100 tons – 90 million pieces produced per year – 8% of producion exported to 34 Countries on 4 Continents. Born as a specialist in the construction of progressive dies and conventional stamping , SANJO has been able to incorporate, at all times, the necessary technology to offer its customers a comprehensive service. In 1984, after starting the assembly process activity, it acquired the first fine-cutting press, definitively betting on this technology and breaking into the European market. Later, the integration of the heat treatment and the machining section would arrive . its rapid
growth, based on precision, quality and innovation, led it to move to its current plant in 2002, and more recently to open commercial offices in Stuttgart (Germany) and Shanghai (China), as well as a new factory in Virginia. Beach (USA). With a marked family character, SANJO has managed to bring together the tradition and know-how of the small workshop with the vision and development of large companies. Today, it is a company specialized in the stamping of precision parts that has clients in 34 countries. This trajectory has earned him the recognition of the national and international business world.
Certificates: IATF 16949:2016 – ISO 14001:2015 – ISO 45001.2018
At SANJO GROUP , we have always had a firm commitment to quality. For us, it is important to work respecting safety, health and the environment, making all our agents (customers, employees, distributors, suppliers, etc.) feel satisfied with our services. SANJO GROUP has five production plants -four in Spain and one on the US East Coast- and four commercial offices -two in Europe (Barcelona and Stuttgart), one in the Nafta area (Virginia Beach) and another in Asia (Shanghai).