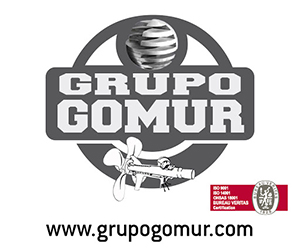 GRUPO GOMUR  – 39600 Maliaño – Cantabria – ES
Grupo Gomur is a Famili owned company, estabilished in 1974, lo0cated near Santander North of Spain
Two covered facilities of 13.000 sqm total, more than 250 employees.
One Plant: Gomur Mecanizados y Automoción for Machining facilities and other Plant : Montajes Gomur for Welding construction worshop
Maximum range of parts: 45 tons for construction and 25 tons for machining
– Working for all Europe, maynly France & Germany, with a turnover of 17 M€ Also exporting to Russia, China, U.S. México, Brazil…
– Grupo Gomur Companies: Montajes Gomur S.L. / Intecma Gomur S.L. / Gomur Mecanizados y Automoción / Ingemotions S.L.
CORE BUSINESS
Mechanical engineering:
• Engineering and Design
• Welding constructions up to 45 tons
• Supply of large machined parts (forged or casted)
• Painting and mnetallizing
• Pre-assembly / Complete assembly
• Turnkey projects (Tools, paerts or complete machine)
• Industrial installations / industrial maintenance
• Automation and robotics
Facilities and production means
Certified welders in different technologies and materials (MIG /MAG / TIG)
Certified in CE /CU TR
NTD /Quality control by laser Tracker Faro / Ultrasound / Termographic Camera
Metallising-shot blasting (7x7x4,5 m) and painting ( 13x8x6 m) booths
MACHINERY PARK:
CNC Milling machines: ZAYER 2 – X = 12.000mm /Y = 3.500mm / Z=1.250mm // ZAYER Kairos – x= 12.000mm / Y=1.350mm / Z=3.500mm // ZAYER – X=2.000 / y=1.000 / Z=900mm. //// BORING MACHINES: CNC Boring Machines TOS 5 X=14.000mm / Y=4.000 mm/ Z=1.000mm / W= 800 // TOS 1 /TOS 2 – X=3.500mm / Y= 2.500mm / Z=1.250mm / W=800mm // TOS 4 – X=3.500mm / Y=2.500mm / Z=1.250mm / W=800mm // Manual Boring Machines: SAKEM – X=1.700mm / Y=1.200mm / Z & W
700mm //
VERTICALES LATHES:
CNC VERTICAL LATHES – DYE ø 5.050 x H=3.300 mm/ UMARO – ø 3.300 x H2.150mm / STANKO ø 1.760 X H=1.400mm //
MANUAL VERTICAL LATHES – FRORIEP ø 1.860 X H= 1.40omm // HORIZONTAL LATHES: CNC HORIZONTAL LATHES – GEMINIS ø 2.000 x L=6.000 GEMINIS ø 750 X L=3.000mm
ENERGY SECTOR: Wind Energy – Offshore – Onshore – OIL & GAS – Hydro – Nuclear – Solar – HEAVY INDUSTRY: Iron & Steel Industry – Motors & Generators – Cement & Mining Industry – Paper Industry TRANSPORT & PROPULSION: Naval – Railway – Aeronautic – Espace
INDEFUNSA S.A.L.
Ellorio – Bizkaia – ES
E' un'azienda spagnola Leader nel mondo, ha come attività principale la progettazione, la costruzione  di macchine per fonderia ed  altre applicazioni.
Fondata nel 1965 oggi, con più di 54 anni di esperienza,  è partner dei suoi clienti con cui ha un contatto continuo;  occupa un'area di 8.000 mq. Coperti e ha più di 40 macchine CNC di ultima generazione e  ogni anno investe in nuove macchine per restare al passo con il mercato.
La progettazione ed il rilascio continuo di nuove soluzioni,  le permettono di presiedere  anche grandi progetti  in diversi settori dell'attività industriale con un' equipe di ingegneri di lunga e comprovata esperienza, esperti nel disegno e nella progettazione  di nuove soluzioni per macchine più efficienti  e/o   per nuovi macchinari per fonderia.
INDEFUNSA S.A.L.  Pone  la sua esperienza al servizio del Cliente.
E' specializzata nella progettazione e costruzione di :
Rompi montanti –  Rompi materozze – Staffe – Boccole – Bulloneria speciale – Frantumatori di rottame
Saremo lieti di iniziare un'importante collaborazione
VIBROTECH ENGNEERING S.L. 
 48510 –  Valle de Trapaga – Vizcaya – España
Siamo una Società' Spagnola Leader nel mondo che sviluppa la sua attività' principale nella progettazione e nella produzione di macchinari ed impianti vibranti per fonderie e altri Settori Industriali.
Vibrotech è formata da un team di professionisti altamente qualificati con una profonda e vasta esperienza nella progettazione e nella produzione di macchine vibranti, esperienza che offre ai suoi Clienti per soddisfare ogni loro esigenza, adattandosi a quanto le viene richiesto.La sede principale e lo stabilimento di produzione si trovano nella Valle di Tràpaga vicino a Bilbao che è la più' grande area industriale di Spagna ed una delle più' grandi aree industriali in Europa.
Poniamo il nostro impegno nella ricerca e nello sviluppo di sempre nuove e migliori soluzioni che ci consentono di gestire qualsiasi progetto che coinvolga macchine vibranti ed installazioni per qualsiasi settore dell'attività' industriale leggera o pesante.
Vibrotech ha capitale interamente Spagnolo