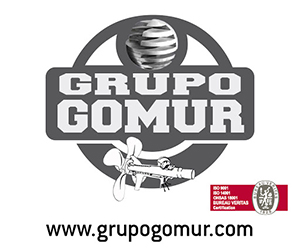 GRUPO GOMUR  – 39600 Maliaño – Cantabria – ES
The  Grupo Gomur is made up of three companies which specialise in the industrial sector. On one hand, the company Montajes Gomur S.L., on the other hand, the company Intecma Gomur S.L and finally the most recent creation Gomur Mecanizados Y Automoción S.L. An exclusive dedication and the knowledge acquired during an extensive business trajectory have enabled these three companies, of family origin, to offer the following services to the market:
Mechanical Engineering
Mechanical Construction
Machining of Large Dimensions
Industrial Assemblies
Industrial Maintenance.
Predictive Maintenance.
Engine Repair.
Provision of Automotive spare parts
Grupo Gomur offers turnkey projects and has specialised in the precision machining of components and assemblies of large dimensions, including their construction (primary material) and repair, for different industrial sectors.
Grupo Gomur works with some of the largest international companies and groups in different sectors which I list here in alphabetical order:
Aeronautic
Aerospace
Agricultural – Food
Paper factory
Cement works
Energy (Electric, Geothermal, Nuclear, Solar, Wind)
Heat exchangers
Mining
Naval
Railway
Pharmaceutical
Off Shore
Oil & Gas
Steelworks
Etc ..